Maureen and Michael Travers, Art and life.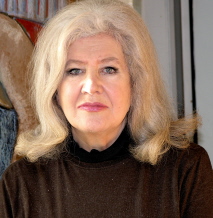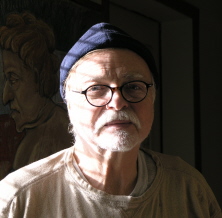 Maureen and Michael Travers have both been artists for over fifty five years.

Both were born in November 1942, eight days apart, in Northern England.

Maureen was fortunate to have been born into a very large family of practising artists and craftmen.

Michael's father was a painter.

They met at College.

After Graduating- Maureen specialized in Glass, both as a studio stained glass artist and as an Industry Designer, later entering the teaching profession. Michael lectured in sculpture in England, emigrating to Canada in 1968, accepting the position of Assistant Professor at the U of A, teaching foundation studies in the BFA program and supervising MFA Candidates, that include, Lilian Klimek ( Alberta College of Art), John Freeman (Asst. Dean- University of Alberta), Gary Jones-(sculptor - commission Calgary Airport), Ollie Niniowski- Industrial Designer - Housing developments.

They have been together for over fifty years, as individual artists, teaming up for Commissions and consultancy contracts, while operating their own company. For the last fifteen years Michael has worked with Maureen on stained glass, developing his own unique style of designs and painting. Although they share a sense of the absurd along with many interests, (continuously exploring the how?, who?, where?, what? and why? of the world), they have retained their individual philosophical approaches to art and problem solving.

Maureen's personal art-form is drawing, some may call it academic. But for her, seated in front of an interesting person, with a blank sheet of paper, transferring the observations and thoughts about the subject onto the paper without erasure, is a captured moment in time - meditation. The result is often essence - not always appreciated by the subject or viewers.
Maureen's Drawings - Modern characters of the Kootenays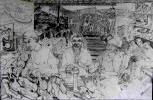 Michael is a visual poet - philosopher with an environmental approach to art and design that incorporates being a bricoleur combined with the philosophy of Wabi-sabi - The Japanese Art of Impermanence.
Drawing, observation and research has always been the foundation for all of her fine-art and design work, incorporating their knowledge and enjoyment of ancient cultures, tribalism, symbols, ornament, philosophy, language, art history and arcane art methods.
They are both multi-taskers, He is a 'big picture' thinker, She is detail oriented and an anti-procrastinator, both xenophiles, enjoying new experiences, information and recognising that computers are a valuable tool, unsurpassed for data retrieval and communication of information and ideas.