The Sisters of Colombo.
Historical background.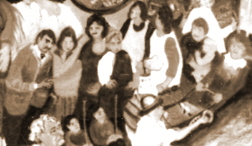 Twenty years after the the men of Italian descent founded the Colombo Lodge in Trail, the women who had always taken a very active role in supporting the lodge's functions and assisted in catering, meetings, visiting the sick and elderly and special events were encouraged by the enlightened Domenic Daloise The President of the colombo Lodge in 1924 to form their own 'Sorelle', along the same organizational lines as the men's lodge.
The membership was mainly drawn from the wives of members, but any sister, daughter or female relative of Italian descent could become a member.
They shared the hall with the men for all of the activities, held their own banquets and fund-raisers.
By founding the Sisters of Colombo, as an autonomous organization, the sorelle now carried out their own benevolent activities within the Italian community. Organising compassionate visits to the elderly and sick, assisting with births, weddings and funerals and taking a larger role in the organization of children's social and educational events. Today, membership is open to any female who is of Italian descent, or related by birth, marriage or adoption to a person of Italian descent. The Sorelle members in modern times take an active role not only within the Italian community but are also involved in all matters of the community at large. Any person interested in joining can contact the Colombo Lodge in Trail for more information.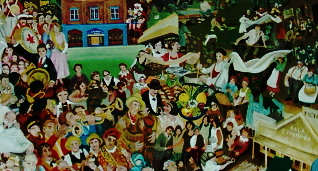 Presidents of Sorelle
1924-26 Bianca Barichello
1927 Elvira Muzzin
1928-29 Carolina Georgetti
1930 Lucia Agazzi. Maria Colombo
1931-32 Francesca Ludovicci
1933 Carolina Georgetti
1934-35 Felicita Vannucchi
1936-38 Maria Colombo
1939-40 Erminia Sammartino
1941 Maria Colombo
1942-44 Felicita Vannucchi
1945-48 Erminia Sammartino
1949-50 Ada Tognotti
1951-53 Elsa Della Mattia
1954-56 Erminia Sammartino
1957-61 Rose Bertuzzi
1962-64 Emma Freschi
1965-66 Eni d'Aquino
1967-72 Victoria Bisaro
1973- 76 Flora Fabbro
1977-80 Lydia lrcandia
1981-82 Teresa Moro
1983-85 Doreen Meschi
1986-88 Anne Gagliani
1989 Lydia lrcandia
1990-92 Mona Unti
1993-95 Vivian Johnson
1996-99 Loriana Gilchrist
2000-02 Norma Page
2003-05 Donna Cargnelli