Georgetti Family.
Georgettis and the Montana Hotel in the Gulch.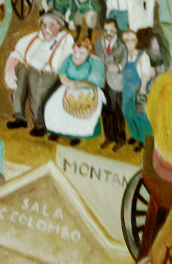 Historical Background.
After Augustus Heinze got to hear of the Rossland Gold find in Canada, He left the Anaconda mining area of Montana, where He had sided with the striking miners in a bitter dispute with The Hearst Family and came to Trail Creek, building a smelter on a ledge overlooking the Columbia River. ory was made.

The word spread and many miners followed Heinze to Canada.

In the Anaconda Mine, Daniele Martinelli also heard of Heinze's new smelter, arriving in Trail Creek in 1896. Issaco Georgetti arrived 1897*, building the 'Montana' Hotel in 1902*. settling in the 'Gulch', building a community of homes, businesses and establishing Canada's first Colombo Lodge in 1905. *Trail of Memories - Trail Historical Society.