Discoveries and Mining.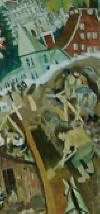 Historical background.
During the 1880's tales of rich ore strikes around the Kootenay Lake area brought prospectors into the West Kootenays.
The Silver King Mine had been discovered on Toad Mountain and a smal camp community sprang up on the arm of Kootenay Lake. First it was called Salisbury, then Stanley and today it is called Nelson, and it became the centre for registering claims and many would-be-fortune-seekers used it as a base from which to explore the Kootenays.
The Dewdney trail - a four feet wide wagon route across the Province had been built in the 1880's. Two prospectors were Joe Moris and Joe Bourgois were prospecting along the Dewdney Trail near Trail, when they spotted the Stains on Red Mountain near Rossland. In July 1890 they staked four claims and an extension on the mountain, planting both Rossland and Trail firmly into the forefront of mining and smelting.
The five claims had to be registered in Nelson. Enter Colonel Topping, having become a Canadian citizen was now the deputy mining recorder. After informing the two Joes that a claim and an extension cannot be registered in the same vein of discovery, Colonel Topping offered to pay $12.50 registration fee for the extension called Lewise and register it in his own name, calling it the 'Leroi'
News of the claims spread, and dozens of claims around Red Mountain were staked.(note 1).Colonel Topping took his ore samples down to Spokane. A group of investors headed by Oliver Durant sank a shaft in 1891 and shipped ten tons of ore down to the Colorado Smelting Works in Butte, Montana. The returns were excellent and the Leroi Gold Mining Company was registered in Spokane, Washington.
Topping sold his share for $30,000.00 which was a handsome sum in those days, however the mine would later sell for ten times that sum, and would provide the wealth that built those beautiful stately mansions in Spokane. The ores were packed down a trail to Trail Creek Landing and then shipped by steamer to Northport in Washington to be smelted. Meanwhile many other mines were also giving great results, not only at Rossland but throughout the Kootenays. Hundreds came to the area on the return trip of the steamers from Northport in Washington, in the summer of 1895, among them were three men on a mission.
Messrs Breen, Farrell and Humphries checked out the Rossland mines, the possibility of building a tramway up the valley to Rossland and and the townsite of Trail Creek owned by Colonel Topping and his partner Hanna. They were representing the interests of a mining industrialist, F. Augustus Heinze of Butte Montana who was interested in extending his holdings to north of the 49th by building a smelter in Trail Creek to handle the Rossland ores.

Note 1. On the back page of The Trail Historical Society's Book 'Trail of Memories' their is a copy of an old map of the Rossland/Trail District that shows the preponderance of mines staked around Rossland