The Two Worlds of E. Pauline Johnson
Tekahionawake, (Double Wampum).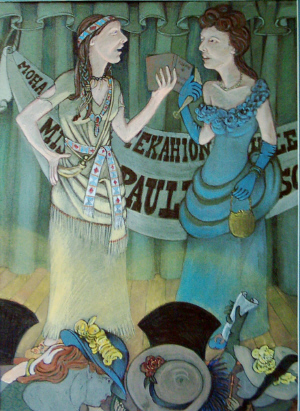 Two Worlds of Pauline Johnson - Pastel on Ingres paper. 22" x 18"
The Two Worlds of Miss E. Pauline Johnson - Tekahionwake, (Double Wampum). The citizens of the 1890's were quite cosmopolitan in their cultural tastes, many having travelled the world enroute to the Kootenays.
It is not surprising that Opera houses were built in the boom towns. Local groups would perform dramas or musicals such as The Mikado by Gilbert and Sullivan. Bands would give recitals and many towns played host to the Metropolitan Opera Company and other travelling performers.
In April 1899, Fort Steele was treated to an evening of poetry, by the noted Canadian Miss E. Pauline Johnson, who would perform in her traditional Mohawk costume that she made herself. This outfit so impressed audiences, that it would be copied and many versions of it would pop up time and time again in photos of fancy dress balls.
After the readings, Miss Johnson would delight the ladies by changing into one of her fashionable evening gowns worn when presented to royalty in London, England.
Emily Pauline Johnson was born on March 10th, 1861. Pauline's Mohawk family name was Tekahionwake, (Double Wampum).
This is a name of great honour and esteem. Wampum is an Algonquian word meaning white string of beads, that was used by North American Indians as money.
Widely accepted as a form of hard currency. The denominations being determined by the order,and length of the numbers of beads on the strings - white beads being five times more valuable than purple beads. The beads were made from small white and purple shells that were obtained in trade from the Delaware people of Long Island. The shells were ground into cylinders and the centers were bored out in order to make beads.