The Gulch - Trail
Making the gulch their home. Oil on board. 36h x 48w.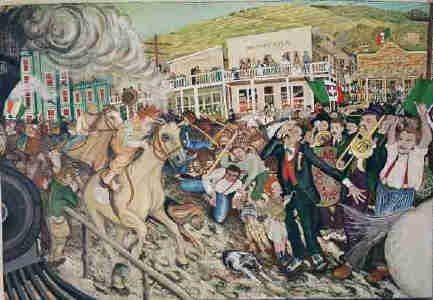 Historical background.
Rossland Avenue (Highway 3B to Rossland) in Trail was originally called 'Dublin Gulch' after it's namesake in the Anaconda mining area of Butte, Montana, where Augustus Heinze was battling for mine ownership taking sides with the miners who were striking against Robber-baron Hearst.
Heinze got to hear of the Rossland Gold find, came up to Trail Creek and saw the potential for riches opting to build a smelter at Trail creek. - History was made.
Irish and other miners too got wind of the Rossland find from Cornish (Jacks) miners, and left Anaconda for Trail Creek.
In the Anaconda Mine, Daniele Martinelli also heard of Heinze's new smelter, arriving in Trail Creek in 1896. Issaco Georgetti arrived 1897*, building the 'Montana' Hotel in 1902*. The word spread and many more Italian immigrants came to Trail, settling in the 'Gulch', building a community of homes, businesses and establishing Canada's first Colombo Lodge in 1905. *Trail of Memories - Trail Historical Society.
Below, The Gulch today, now referred to as 'Rossland Ave'.