In 1865, The Hon. Edgar Dewdney supervised construction of a wagon trail starting in the Western part of the province, in order to transport goods to the newly opened mining districts in the Eastern Kootenays District of British Columbia. The 'Dewdney Trail' as it was later to be called cut through Rossland down to 'Trail Creek Landing' on the banks of the Columbia River. In 1891 the settlement at the landing was renamed 'Trail Creek', this was changed to 'Trail' in 1901 when The City of Trail was incorporated.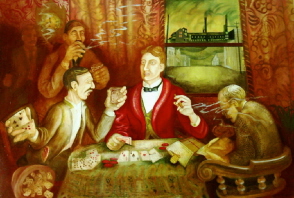 Playing for the town. Oil on Board. 36hx48w.
Heinze and Topping in the Crown Point Hotel, playing poker for lots in Trail - 1890's.
Topping owned the lots having developed the townsite. Heinze won the lots amounting to sixteen thousand dollars of realty*.
Jimmie Anderson recorded the lots in a book, watched by Frank Hanna Topping's partner and William(Bill) Devitt the new town constable.
* Topping's Trail by Elsie G. Turnbull, Trail Historical Society
Fritz Augustus Heinze
F. Augustus Heinze was born in Brooklyn in 1869 of Jewish-German-Irish parents. Well educated, graduating from the Columbia School of Mines. At age 27, Heinze was already a free-wheeling capitalist, one of the Copper Kings of Butte Montana .While battling for ownership of one of his Anaconda holdings, He championed the worker's causes against the Hearst Family who financed Marcus Daly the 'Copper King' of Anaconda in Montana. The Original Dublin Gulch was in Anaconda, named by the Irish and Cornish miners. Suffering from an ugly strike, these miners along with many of the Italian and other immigrants followed Heinze to Canada when the Rossland ore find became common knowledge.
Never one to miss an opportunity, Heinze realized that the ore would be better smelted in Canada closer to the point of transportation at the mouth of the creek at Trail. He purchased the bench of land where Teck-Cominco sits today. A great risk taker and of course avid gambler, He lost his battles against the giants of Wall Street, and was eventually forced to sell his smelter and railway holdings to the CPR.
His biography, "Copper Kings at War," is interesting reading, and Elsie Turnbull has written extensively about him in her many books for the Trail Historical Society.
The Trail Historical Society has published several informative books and videos on the History of Trail in addition to Elsie Turnbull's books. The archives at City Hall houses a unique collection of information and photos on Trail, Cominco and Sports Activities in the district.

The Sports Hall of Memories is located in the Memorial Centre, it displays the memorabilia, trophies and information of Trail's Sports Legacy. Next door towards the Bridge is the Museum, maintained and curated by The City of Trail and The Trail Historical Society, open to the public during Summer Months.

If you cannot visit Trail, check out The City of Trail's award winning website athttp://www.trailhistory.com. - Prints from the very extensive collection of photos, can be purchased from the Archives.

References:

*Trail Memories - Trail Historical Society

Mercier/ Anaconda: Labor, Community and Culture in Montana's Smelter City. http://www.press.uillinois.edu/epub/books/mercier/ch1.html