Rossland - The Golden City
Rossland-Notable Characters, Mural Design - mixed media on heavy tooth paper. 20"x30".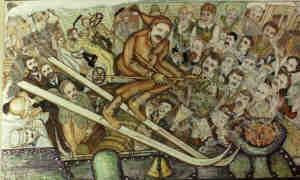 This mural design was inspired by reading Elsie Turnbull's Topping's Trail, and The Rossland Centennial Photo Album 1897-1997 compiled by J. D. McDonald. Both books are available from public libraries and respective Historical Societies and Museums.
Historical background.
When the Wild Horse Creek goldrush was well under way in the East Kootenay Region of British Columbia. The Federal Government of Canada was concerned that American traders would flood into the area taking business that could enhance commerce in Victoria and Vancouver. Edgar Dewdney was commissioned to build a trail from Rock Creek in Western BC to Fort Steel in Eastern BC. This trail passed south of present day Rossland after coming from the west through a pass in the south, then followed the stream giving it's name to Trail Creek. The gold rush at Wild Horse Creek dried up just after the 'trail' was completed, and was for the next twenty years used only by prospectors. Two such prospectors - 'The Two Joe's' would discover Gold Gold on Red Mountain in Rossland in July, 1890. Heinze got to hear of the Rossland Gold find, came up to Trail Creek and saw the potential for riches opting to build a smelter at Trail creek. - History was made.
Rossland Characters
1865 Edgar Dewdney
Builder of the Dewdney Trail which passed through a pass south of Rossland following a stream down to the Columbia River, thus giving the area the name of Trail Creek, later Trail Creek Landing where Trail is now. Mr Dewdney returned to Rossland in 1896 as the Lieutenant Governor of the Province of British Columbia, having had a very illustious career in Provincial and Federal politics
1890 The Two Joes.
French-Canadian Prospectors, co-stakers of The first Red Mountain claims in July 1890 that started the Gold-rush to Rossland. Joe Bourgeois partner of Joe Moris. Mr Moris was born in 1854, and lived for 95 years.
"Colonel" Eugene S. Topping
American born adventurer and savvy business man was the gold recorder in Nelson, when the two Joes went to register their five staked claims on Red Mountain.
John Houston
Owner of the Rossland Miner, who moved to nelson and became their first mayor.
J. S. C Fraser
Vice president . Board of Trade, Manager, Bank of Montreal. Negotiated the Sale of Heinze's smelter to CPR.
1890's Olaus Jeldness
Ski racing and Jumping Champion.Prospector, Prankster -Father of Rossland skiing.
1892 Ross Thompson
The original founder of Rossland Townsite he named it "Thompson" but had to change it later to 'Rossland" when the Postal Department notified him that "Thompson" was already taken.

On March 2, 1897 the City of Rossland was incorporated, and Ross Thompson became an Alderman on the first council.
1896 Father Pat - aka Rev. Henry Irwin.
Anglican Priest. Built the first Anglican Church on Kootenay Ave, 1896 - After this wooden church burnt down, a new church St George's Anglican Church was built and dedicated as the Father Pat Memorial Church.
1898 John Kirkup
- Rossland District's First Gold Commissioner. Much better known as one of the Kootenays greatest Law enforcers and keepers of the peace.

Other notables - not in drawing - Ex Lt. Gov Macintosh, resident director B. A. Corporation. J. B. MCArthur, Q.C President Rossland Board of Trade. John McKane, Secretary, Rossland Board of Trade. W.A. Carlyle, Chief Superintendent, B. A. Corporation Oliver Durant, Manager, Centre Star Mine.
1900 Louis Blue
- Partner with J. S. Deschamps in Blue & Deschamps Lumber Co., owner of the Lion Brewery. Joseph S. Deschamps, Partner of Louis Blue, was Mayor of Rossland in 1913 . Both men were very natty dressers with very elegant taste.
Lorne A. Campbell.
- Manager (later President) West Kootenay Power & Light. Co
1910 John D. McDonald.
- Gen Sup. West Kootenay Power & Light. Co.
1915 William Kemble Esling
- Pioneer Publisher of The "Rossland Record" and then the "Rossland Miner" until 1915 when failing eyesight prevented him carrying on his publishing and he turned to politics, serving as Federal member of parliament from 1925-1946.
Louie Joe
One of Rossland's last vegetable men - There was an extensive chinatown in Rossland with the Masonic Hall at the Centre of activities.
Phyllis Gregory Ross
- John Turner's mother is a truly inspirational Rossland success story. Youngest of three daughters born to a Rossland Mine-hoist operator and residing at 2418 Washington Street, graduated as a Gold medal student, earning a B.A. with honours at The University of British Columbia, in 1925. A Fellowship enabled her to graduate from Bryn Mawr in 1927. Gaining a fellowship, Phyllis graduated from The London School of Economics, completing her education at University of Marburg in Germany, meeting and marrying Leonard Turner.Mr Turner died and Phyllis and the children returned to Canada in 1932.

In 1934 moved to Ottawa to take up the position of Economist to the Tariff Board and the Dominion Trade and Industry Commission From the outbreak of war in 1939 until the end of the war in 1945, she was appointed The Administrator of the Wartime Prices and Trade Board.

After the war Phyllis met and married the Industrialist Frank Ross, and became the First Lady of B.C when Frank Ross who from 1955 to 1960 served as the Lieutenant Governor. Phyllis had the great distinction of being the first female to be elected The Chancellor of the, University of her Alma Mater, in 1961, and 1963.

As first lady Phyllis made an official visit to Rossland in 1958, and continued to support Rossland becoming the Honourary Chairperson of the Rossland Historical Museum Association, not only visiting to turn the first sod for the Rossland Historical Museum building, but also returning in 1967 to preside over the opening ceremonies of the new museum building which was Rossland's Canadian Confederation Centennial Project.
1967 Nancy Greene-Raine
- First winner of The World Cup in 1967, and winner again in 1968. Rossland's first Olympic Ski Champion. Gold and silver in 1968
1984 Rt. Hon. John Napier Turner, Q.C.
- was born in England, Moving back to Rossland with his mother Phyllis, his sister Brenda and his new step-father Frank Ross. Graduated from the University of British Columbia, attending Oxford University as a Rhodes Scholar and then attending the Universite de Paris.

Elected as a Federal Liberal Member of Parliament, represented St. Lawrence-St. George, Montreal 1962-68; Ottawa-Carleton, Ont, 1968-75; |Vancouver-Quadra 1984. Served as Minister of Consumer and Corporate Affairs in 1967-68, Solicitor General in 1968, moving to The position of Minister of Justice from 1968 - 1972, then as Minister of Finance 1972 - 75.
In 1984 He became Canada's seventeenth Prime-Minister, in office for 80 days, shortest period for 20th Century PM.
1985 Jackie Drysdale
Rossland's First female mayor, elected again in 1987 (Councillor in 2005).
1992 Kerrin Lee-Gartner
Olympic Gold Medalist - Western Canada Ski Hall of Fame.

In 1967 Alderman Wilf Woodhouse, Jack MCDonald , Alice Martin, Stan Hewgill, Army Harltey, Bill Dobbs, Jack Fisher and Mayor Harry Lefevre, formed the Official Centennial Project Committee and was first out of the starting block to apply for a Centennial Grant which provided the financial foundation to build The Rossland Centennial Museum which we enjoy today - The dedicated members of the Rossland Historical Society have kept history alive producing an excellent collection of books which are available from the Rossland Museum, which is a must see when visiting Rossland. Although many of the original buildings burnt down in past years, Rossland still has some well preserved heritage buildings. Recently the Fire Hall has been turned into a Centre for the Arts, the original Miner's Hall is a venue for performances, and Rossland is the home of The Light Opera Company, Orchestra and talented drama and dance groups. For more information on Cultural and Outdoor activities visit the City of Rossland website.